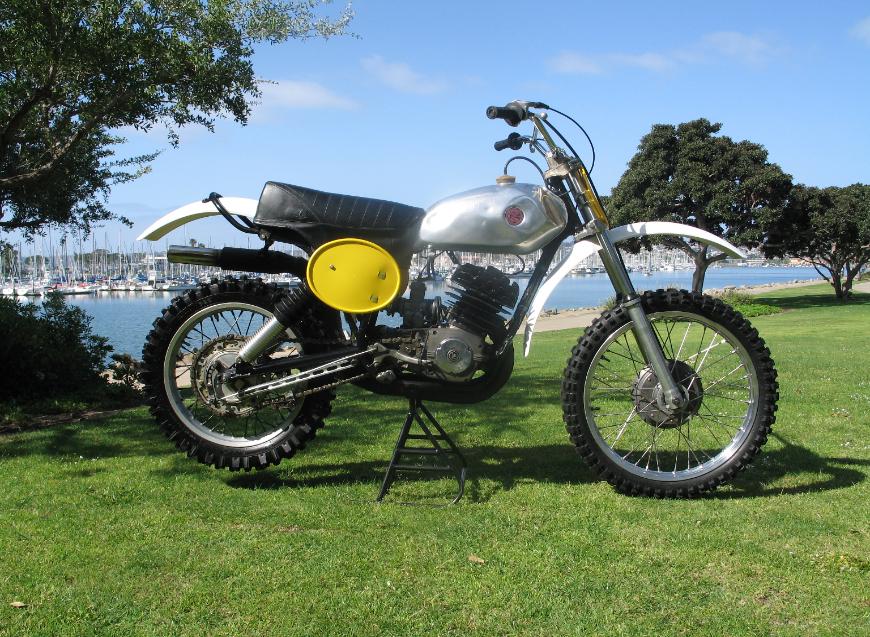 1976 Works CZ400
Featured here is a very rare 1976 Factory works CZ400.
During the mid to late 1960's, the Czech factory had already won multiple World Championships in the 250cc class with Joel Robert winning in 1964 and again in the 1968 and Paul Friedrichs in the 1966, 1967 and 1968 in the 500 cc class. During the 1970's an early 1980's, the open class CZ's were primarily campaigned by members of the Russian team. They enjoyed little success rarely finishing in the top ten.

In 1975, at the Motocross des Nations held in Sedicany Czechoslovakia, The Czech team consisting of Antonin Baborovski, Jiri Churavy, Miroslav Novacek and Zdenek Velky won the over all beating a very strong Belgium team. The first and last time a Czech Team has won the Motocross des Nations and it was done on Czech soil, on Czech bikes!!!

"Works" CZ's featured sand cast magnesium center and outer cases. The shocks are finned all the way to the mounting bracket. Preston Petty fenders were standard items on the "works" CZ's in 1976. The air box is aluminum as is the hand formed "peanut" style tank.

This bike has not been restored, only cleaned and touched up. Currently there are no plans to take the process any further.
If you look closely at the rear wheel, you will notice the subtle differences between the production CZ wheels and
the "works" wheel. Eight (8) studs hold the "aluminum" backing plate on where the sprocket mounts instead of six studs holding a steel backing plate.
The early 1976 CZ400's did not have a reed cage. They were later fitted with the standard CZ reed cage. Reed cagesbecame standard equipment on the 1977 models. Motor mounts and engine head mounts are Titanium. The kick starter was extended to aid the rider in starting this beast.
The works CZ's had sand cast magnesium center cases and outer cases. Though they look very similar to the production models, they are in fact very different.