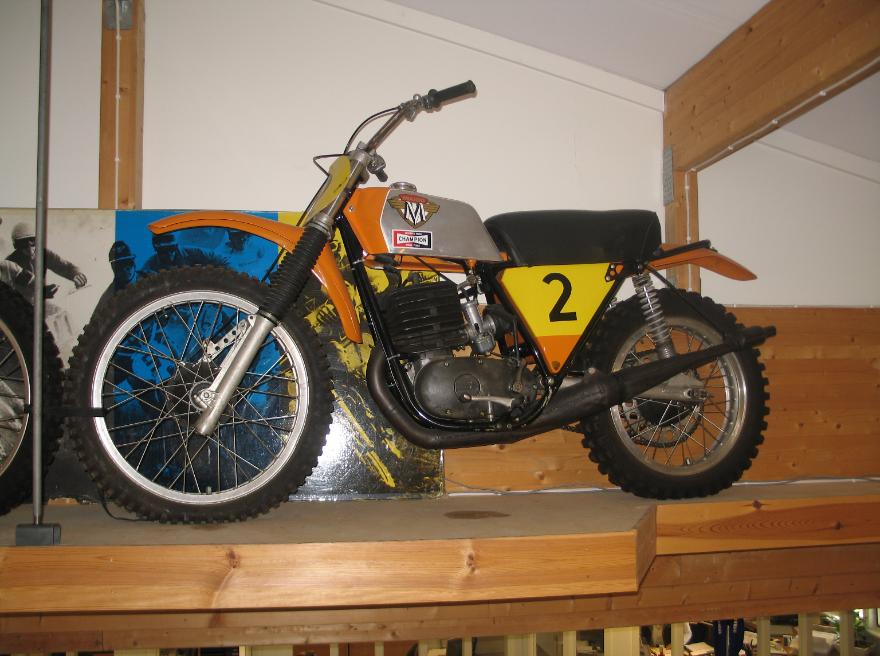 Ake Jonsson's 1972 Maico's
Featured here are Ake Jonsson's 1972 Trans AMA Maico and his 1972 GP Maico. Both bikes in Sweden.

Ake Jonsson began his career in Sweden riding for the Husqvarna Factory Team. Back in those days, there were no Husqvarna dealers so riders sponsored by Husqvarna dealt directly Champion's Bengt Aberg and Torsten Hallman. After finishing third in the 1968 500cc World Championship, Ake was hired by the Maico Factory Team.

1970 was a tough year for Ake and Maico. Despite the seemingly constant mechanical problems, Ake managed to once again finish third in the 500cc World Championship. Going into the final World Championship race in 1971, Ake had a slight lead over Suzuki's Roger DeCoster. While leading the race, Ake suffered mechanical issues with his Maico and ultimately lost the title to DeCoster. Ake went on to dominate in the 1972 Trans-AMA held in the United States, winning nine straight races and the title!

Ake moved to Team Yamaha in 1973. Mechanical issues kept him from repeating his performance of 1972. He retired from motocross a few years later.

Ake remains in Sweden today and recently retired from running his very successful Yamaha dealership.
This is Ake's Trans-AMA bike. The most notable difference between the two bikes is the gas tanks. The larger tank was necessary for the Grand Prix races, 2 motos of 40 min and 2 laps. In the TRANS-AMA, the race was 3 motos of 30 min.
Ake won nine (9) straight races in the 1972 Trans-AMA series aboard this very bike. A true piece of motocross history!