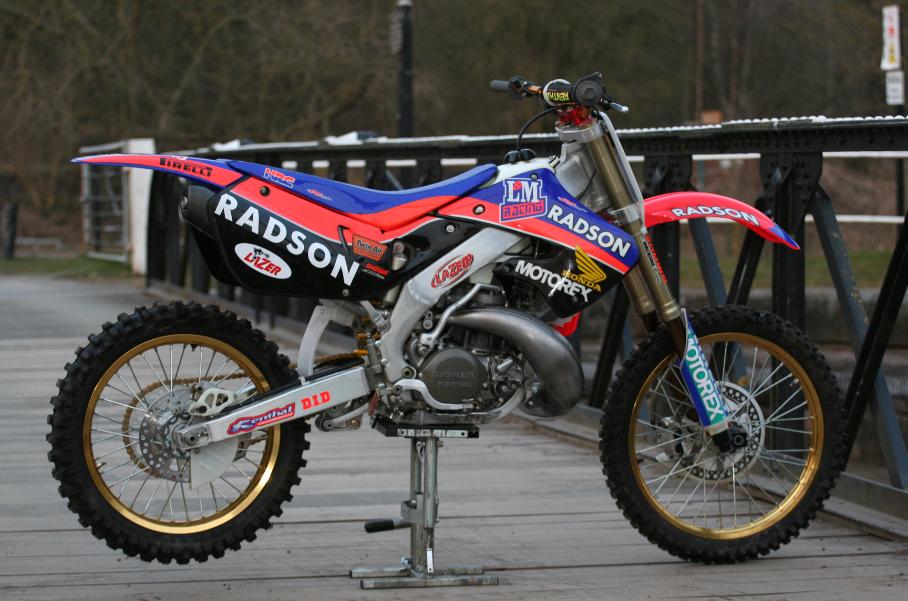 1999 Honda RC250
Fred Bolleys Championship Winning Ride
Ridden by Fred Bolley.
When the bike won the World Championship, it was washed and prepped then put into a vacuum bag and kept safe until it was recently purchased.
In the 1999 season, Fred Bolley and Stefan Everts rode these full factory machines. These bikes were the last of the true full factory bikes in Europe. They may look similar to what a customer could buy at there local shop but were very different
.
The frame is constructed of solid billet sections, completely different than stock. The bike runs 2 single factory radiators. The swing arm is longer than stock and has solid billet inserts at the front and rear of the swing arm. It is also braced in front of the shock mount.
The suspension if full factory. The headstock is HRC equipment with a titanium stem. The suspension linkage is HRC with Fred and Stefan having their personal choice of set up.
The engine is also full factory. With a choice of 4 speed or 5. The electronics at the time were way ahead of anything else with a computer set up. Different settings were available on to the HRC squad.
The carb is a full HRC item, with electronics to match. The bike features traction control. Armed by the launch control mounted on the handlebar. With different settings available.
The wheels are full factory units, with HRC discs and pads, as are the brake lines. Even small details like the levers are HRC.
The foot pegs that Fred used are hand made titanium HRC units, Exhaust and silencer are HRC with the silencer being carbon fibre.