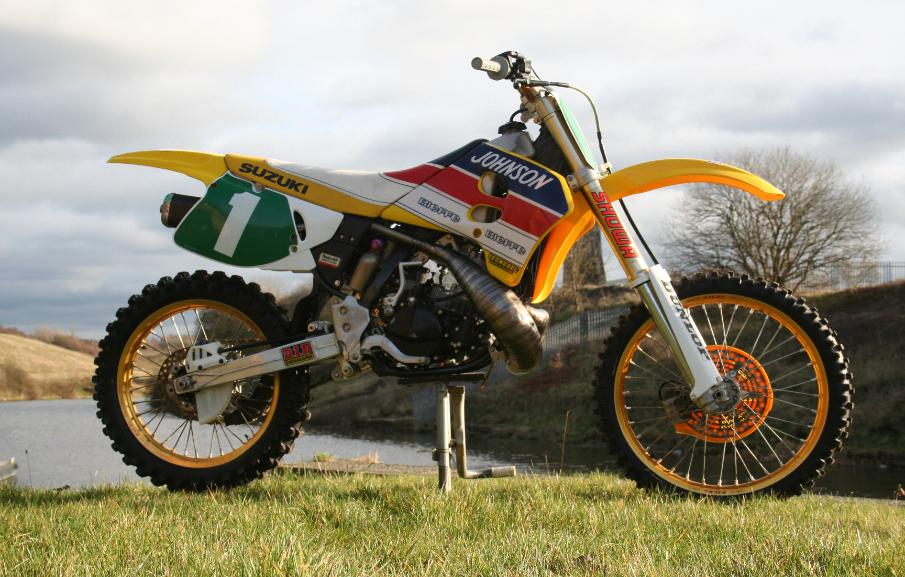 1994 Suzuki RH250
Greg Albertyn's Championship Ride
Featured here is Greg Albertyn's factory Suzuki RH250
This is the bike Greg rode to clinch the 1994 World Championship. The Suzuki's were known to be the fastest bikes on the GP circuit and with Greg aboard, what a combination.
This bike is full factory ride. The frame is a hand made RH frame, built to Greg's specs and requirements. The steering geometry is tighter than standard, the frame is lighter than stock and all hand welded. The back bone of the frame is completely different to stock. The bike also features a factory swing arm, factory linkage and the forks are full factory as is the steering yokes. The steering stem is titanium. The rear wheel is a factory hub with a factory brake and rim. The alloy tank is hand fabricated and the exhaust is completely titanium. Reported to have cost over $10,000.
The engine is a pure factory power house unit. This motor was good enough to be used in the 95 RH as well as the early 96 RH bikes. All bolts and fasteners are titanium. Even the kickstart is one off due to Gregs knee braces rubbing the larger one.
The bike is started up regularly and sounds fantastic.