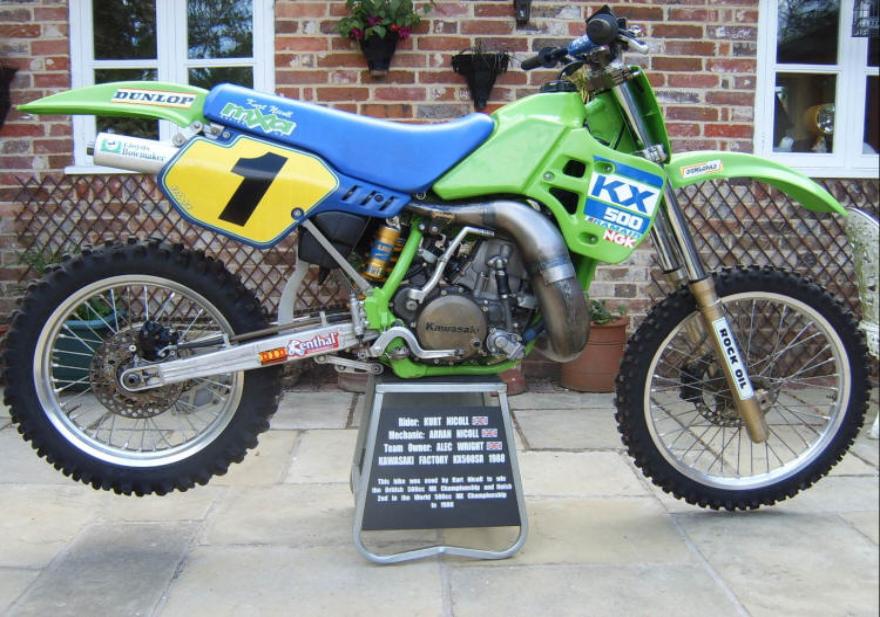 1988 works Kawasaki SR500
The following bike is a "works" 1988 Kawasaki SR500. It was last used at the French MXDN in 1988 when Kurt Nicoll finished 2nd in the 500cc World Championship to HRCs Eric Geboers. Kurt won the British 500cc Championship and Kawasaki Japan presented the bike to Kurt as thanks for all his hard work through the year. The bike was prepared through the season by Kurt's brother Aaron Nicoll .
Some interesting points: Kurt used a production rear hub in the bike laced to a factory rim as the super light factory rear hub was prone to bearing damage. The bike is now re-united with the factory hub. It has special bend Renthal bars that are one off from the Renthal factory in England . The bike is 100 percent complete and is regularly started.
The bike was owned by the Nicoll family from 1988 until Dave King purchased it.