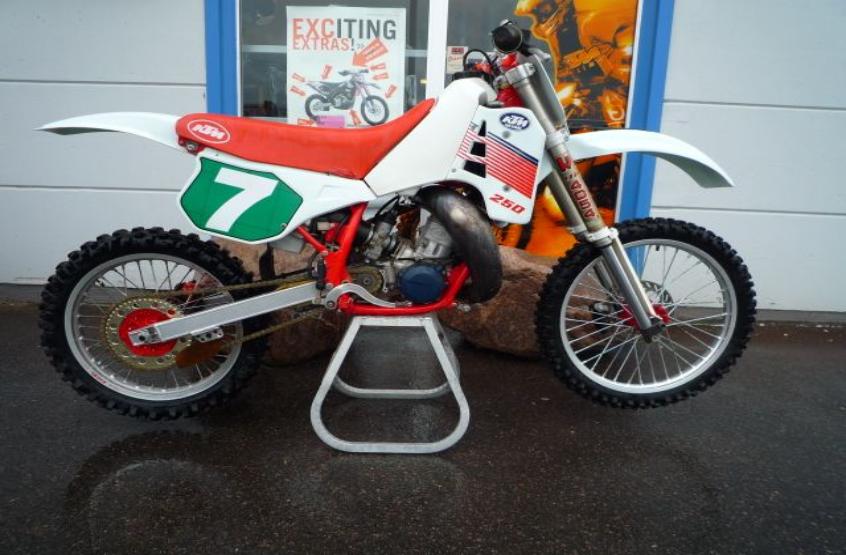 1988 Factory KTM 250
The following bike is owned by Peter Hansson in Sweden. He explains some history on this Bike.
Featured here is a 1988 KTM 250 cc "Experimental bike" used early in the season and at the first GP. Heinz Kinigartner and Swede rider Peter Hansson rode this bikes. This bike was prepared for Peter Hansson. Later in the year, KTM came with a complete new sand-cast engine similar to the one in use today with the 250/330 2 stroke. KTM started with the intake down in the crank on the 250, same as what was used on the 125cc.
The bike is very much hand made.
Engine is taken from the STD 1987 and they plugged the cylinder and used a new reed valve case. Cylinder is several degrees more forward. Transmission cover is also of different, because of the new cylinder angle.
Tank, seat, radiator panels and radiators are stock KTM 600 four stroke. There are extra cells in the radiator.
Hand crafted aluminum air box. Same with exhaust pipe and silencer.
Digital ignition from SEM
Wheels and hubs are stock parts. Front disc brake is thinner and lighter than standard. Nissin brakes in front and Brembo rear.
WP suspension was specially made for this bike.
Upper triple clamp are CNC machined as well the handlebar towers.
Chain Guards " DPA" Long life