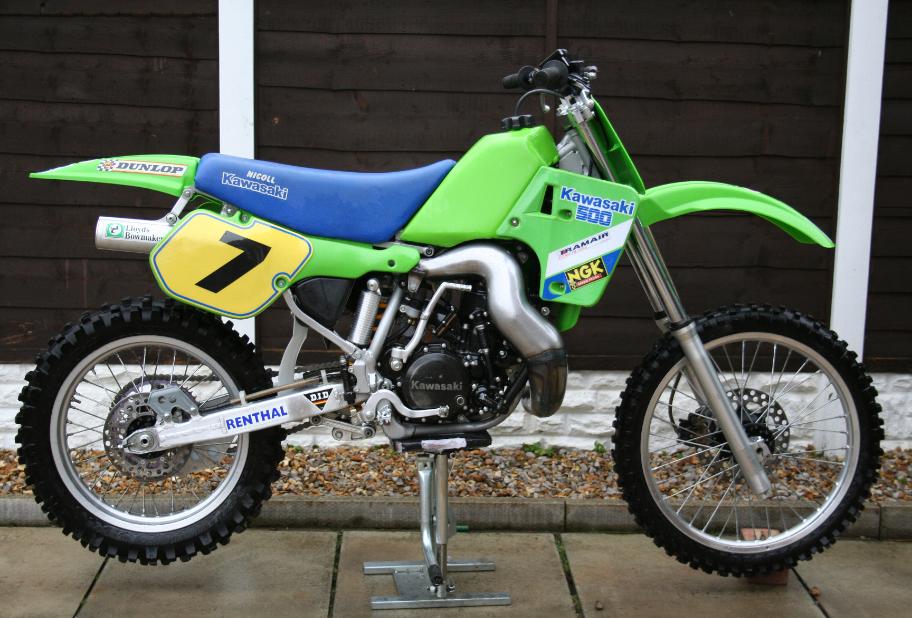 1987 Kawasaki SR500
Ex-Kurt Nicoll ride
Here is the history as shared by the current owner:
I purchased this bike from Kurt himself. The bike had been stored since the last GP of 1987 , when the bike was given to him from Kawasaki UK. It was left in the Nicol workshop attic for 22 years, until I purchased it. It has everything left as it was, not run since 1987. All I have done is check and clean the bike lightly. It runs superbly,,
The history of the 87 SR.
The bike was designed for Georges Jobe. He had many failures on the 86 bike, yokes snapping, and other failures, so Jobe was in no mood for a shabby 87 factory bike, if he was to re-sign with them. They enlisted Johan Luytons of Belguim, as his mechanic who is a superb engineer. Over the winter, Jobe won some Supercross events on the production 87, so all was looking good in the Kawasaki camp. Then suddenly he jumped ship, to run his own team with Honda……..
The bikes were given to Kurt, along with head mechanic Johan Luytons. The bike was modified to suit Kurt, the detail on this bike is amazing, even the hubs are machined for weight, the bike is a full factory works bike..
Factory carb, factory frame, factory sub-frame, factory seat, factory rads, factory swing arm and factory billet linkage. The suspension, front and rear, are factory. Only production parts are plastics.. even left hand rad cowl is pre production 88! Airbox is factory, along with fuel tank and Hitachi ignition. The engine has factory casings, SR cylinder, special gears, clutch and titanium bolts everywhere. Sand cast clutch cover, and hand made solid billet yokes. The bike still has Kurts Renthal bend bars, and his mushroom favorite grips!
I have spoken to Alec Wright awhile back to gain more light on the factory SR. As Kurt explained, and Alec, this bike is very special in alot of ways. Many factory bikes that turn up, often have certain parts removed, as Alec expressed all Kawasaki rear suspension units were returned to Ohlins. This SR has a works SR rear shock.