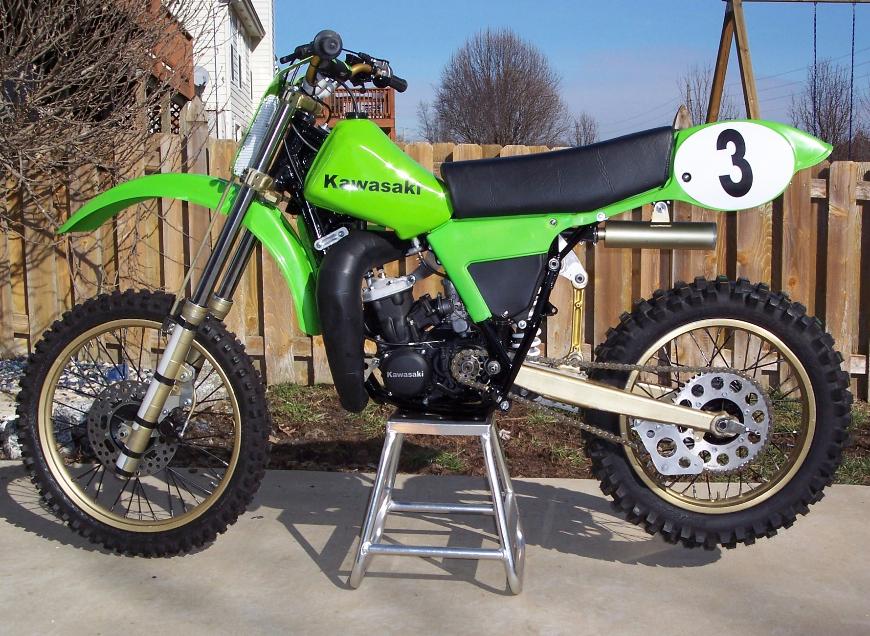 1982 Kawasaki SR250
Featured here is a 1982 Kawasaki SR250. This bike belongs to Mark Hilderbrand of Night-mare Racing (http://www.nightmare-racing.com/). Mark has been collecting and restoring for several years has a very impressive collection. This is the second bike Mark has provided us an opportunity to showcase.

If you are restoring a Kawasaki and are in need of quality reproduction plastics, graphics or advice on what is right or wrong with your restoration, Night-mare Racing is the place to go! Mark says he has had the opportunity to meet some very special friends along the way and we here at VintageWorksBikes are glad to have the opportunity to share another one of his very rare bikes!

This bike was first raced in the first few Supercross races of 1983 though it's actually a 1982, single radiator version. It was raced by Kent Howerton during the Supercross series. Jeff Ward raced a twin radiator version that year.
In 1982, Kawasaki was still perfecting their disc brakes. The disc brakes were primarily used on dry race days and the drum brakes used during wet and muddy races. Notice the black spokes. They were used on a limited number of the works bikes that year.
Very trick works linkage. A great deal of time, effort and research went into perfecting the suspension components on these bikes.