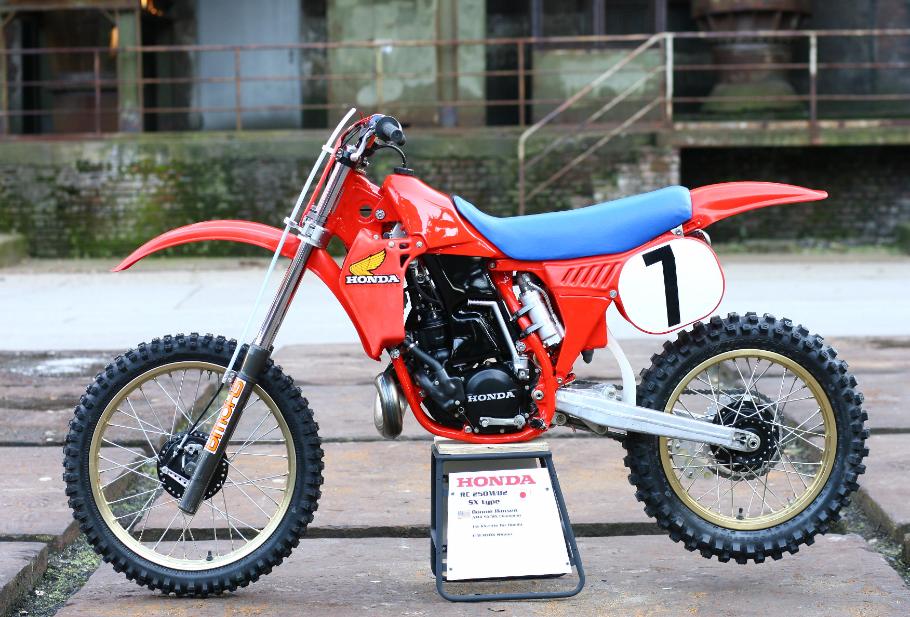 1982 Honda RC250
The current owner explains this bikes history:

This was Honda`s first bike to win the prestiges Supercross title in 1982. It was Donnie Hansen`s ride. Honda threw all their knowledge, their best engineers and a lot of money in the battle to be number one in the US Supercross series.

There were two versions of this bike. One for Supercross and the other one for the GP`S. The difference between the two was the tanks and the suited shrouds. This bike is the Supercross version.

Most of the screws, bolts and nuts were made out of titanium. The rest contains a lot of magnesium and chromoly.

On the top of the tank, there is a tunnel to let air flow to air box. This bike is an engineering marvel! Look at how perfect and close the pipe, the seat and the shock fit! Now you can imagine that rumor`s said that American Honda paid more then $75.000 for each bike.

Super adjustable, light and strong 43mm showa forks. They cost more then $13.000 in those days,

Instead of a steal brake ring Honda left the rear brake plated!

If you compare the RC 250M/81, you can see that everything has greater dimensions like frame tubes, swingarm, shock etc.

The engine was offers with a 5 and 6 gear box, but they run most of the time with the 5 gear box. . Power, handling and suspension were years ahead in those days.