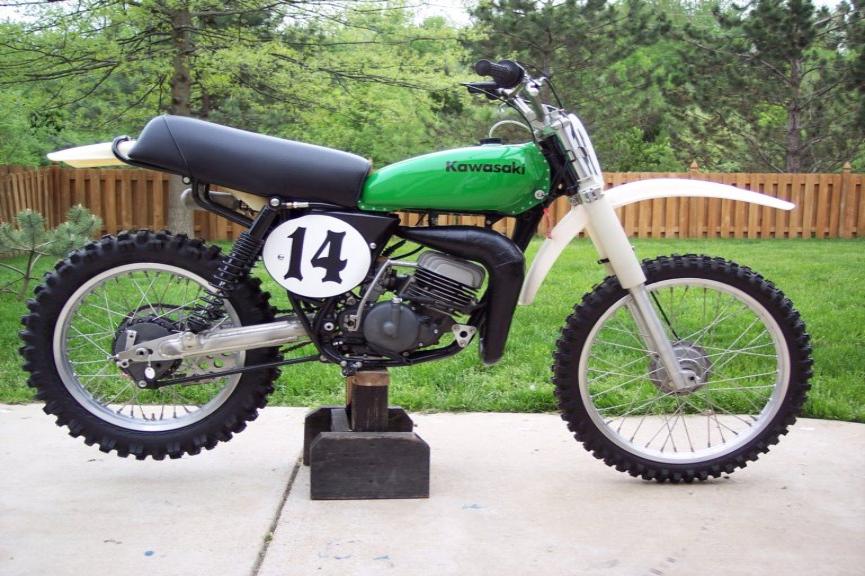 1976 Kawasaki SR 125
Mark Hilderbrand's first works bike was a 1976 Kawasaki SR250. He bought the bike from Gary Semics and later learned that the bike was previously raced by Jimmy "Jammer" Weinert. Mark has been collecting works bikes from all over the world ever since. (http://www.nightmare-racing.com)

Seeing the need to provide quality parts and plastics for other enthusiast's restoring Kawasaki's, Mark started his Internet business Night-mare Racing. If you are restoring a Kawasaki and are in need of quality reproduction plastics, graphics or advice on what is right or wrong with your restoration, Night-mare Racing is the place to go! Mark says he has had the opportunity to meet some very special friends along the way and we here at VintageWorksBikes are glad to have the opportunity to share some of his collection!

This was Kawasaki's first works 125 raced by Steve Wise and then later in the season by engine. The rotary valve version was raced in Japan. The bike shares nothing from the production model and is a pure work of art from the Kawasaki works factory!
Full works 125 engine with magnesium cases and reed valve. The 125 Kawasaki was down on power at first and had some teething problems.
Fiberglass fuel tank, billet lower triple clamp with cast top clamp. The forks were knurled for better grip. This bike currently has works Kawasaki titanium bars however, Mark was not 100% sure if they were allowed to race with these bars.
Billet works KYB forks made for Kawasaki. The magnesium hubs had nikasil liners inside instead of steel rings. This allowed them to run cooler and were much lighter at the same time.