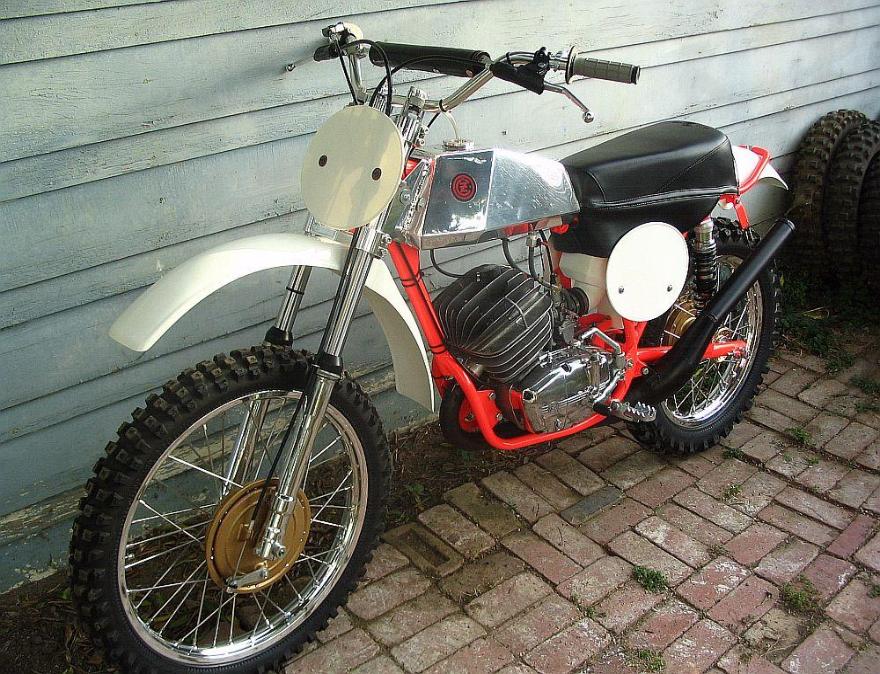 1975 "CUSTOM" CZ 250
The bike featured here is a special construction CZ250 centerport. This bike was built by Eric Johnson, owner of OLD S'Cool MX Restorations in California. If you are looking to have a quality built motorcycle done either to your specifications or showroom stock, OLD S'CooL can deliver either choice. Click here for their website: Old S'Cool MX Restorations
Eric shared the following about this bike and it's construction. "I was approached by a gentleman who originally wanted a run of the mill, standard type CZ race bike. We talked about the initial details of the build until I realized, I would just be building another standard CZ. It was then I realized I didn't want to do a stock type bike and had the thought of building him a special OLD S'CooL bike with some unique and rare features. I wanted the bike to look and be set up differently than any other CZ out there. Brainstorm…How about a Centerport Falta replica? I was already doing one of these unique CZ's for my personal collection and thought he would be interested.
He was and thought it was a great idea to have a special bike as a racer and a collectible piece in a single unit. Centerport CZ's are ultra-rare and highly desired among those that just have to have something akin to a factory works bike. So, here it is after 7 months of planning and building. The bike is basically a 250cc reed motor with a handmade center exhaust port exiting the authentic Falta cylinder like the works bikes. The frame is a NOS 513 series frame with a 1975 era rear sub frame assembly grafted onto it. Has 8″ of travel up front, 5″ in back through premium Ohlins shocks and a whole lot of neat parts in between. Billet triple clamps are Czech made from the motherland as well as the 8 oz all aluminum rear brake plate. Reed valve is a tried and true DH 4-pedal reed unit coupled with a 34mm Mikuni and boost porting. Electronic flywheel ignition by B.U.S. fires the plug magnificently. Engine starts on first kick every time! Excel rims, Buc's spokes, Pro-Form Racing pipe and a premium CZ chain. Nice slim alloy fuel tank and a new Bertus period correct seat assembly top off the old school look of the bike.

Everything is brand new except the fork sliders, hubs and engine cases. The bike runs better than stock with a little extra pep. Five speed 250 Falta gear ratio transmission that shifts like butter with a dry clutch. All in all a great little CZ in which I thoroughly enjoyed taking on. You don't see very many of these around".