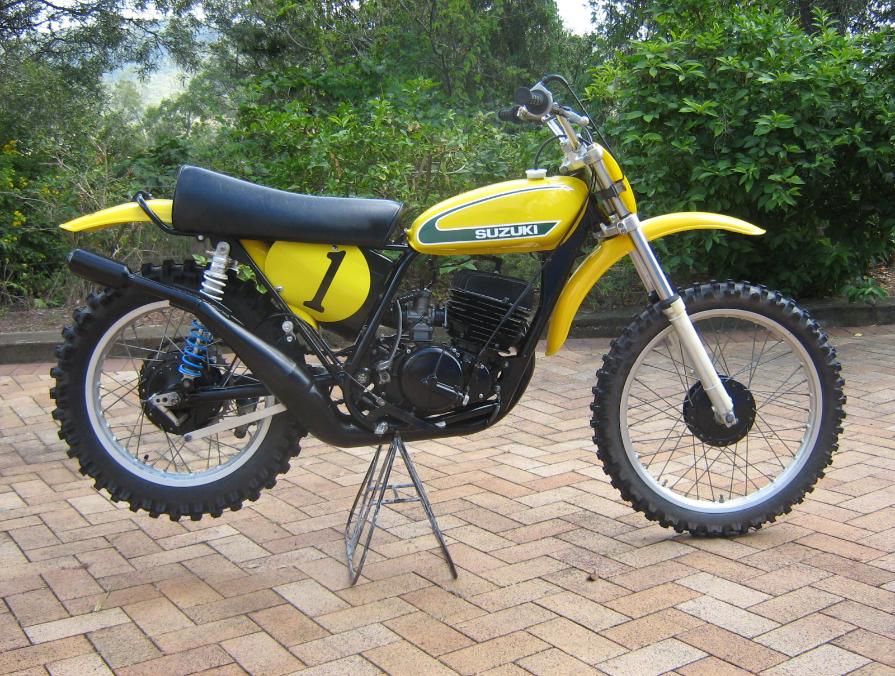 1974 Suzuki RN400
Featured here is a 1974 Suzuki RN400 works replica. The bike is currently owned by Dave Tanner in Australia. He explains the bike history
"This 1974 Suzuki "works replica" was made and issued to National teams in NZ England and Australia, the USA
market didn't get them and they were basically the same as the full factory spec bikes without the billet.
famous bike here in Aussie. These are very rare and although there are 3 in Australia (the other 2 are incomplete)
and a couple in the UK, this one is the only one race ready and used. I raced it for 15 years before deciding that I
should only take it out on demo rides. It was race prepared for Joel Robert to ride last year (although he did not
end up ridding it) and was ridden last month at the Classic Dirt event VMX Magazine puts on.
The difference between say a TM400 is pretty simple, the foot pegs, throttle housing and rod are the same, there
are no other interchangeable parts. The hubs, engine cases are all sand cast with part numbers cast in, the carb is
a VM36SCC Mikuni, sparks are by flywheel magneto – all same as the big boys bikes. Tank is Alloy so is the seat
base. Some of the other trick stuff is dual piston ring fork dampener units, left / right shift, roller bearing swing arm
weight saving."