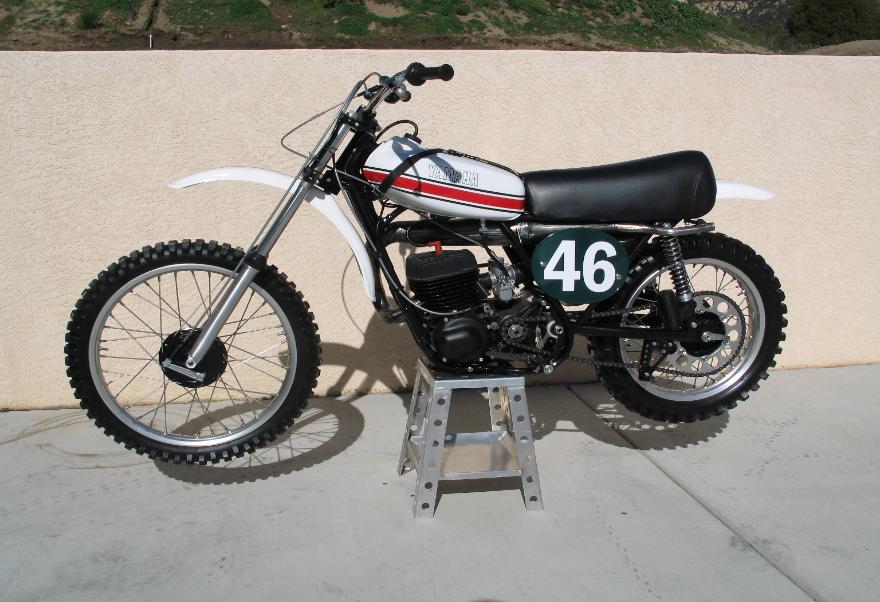 1973 Works Yamaha YZ250
Featured here is a 1973 works Yamaha 250. The bike was recovered in Sweden and later restored in the United States.

This bike is believed to have been raced by Hakan Andersson during the first two races of the 1973 GP Season. It was at the first race that Haken was given a "mono shock" bike. That bike can be seen at: www.mxworksbike.com

The works motors for 1973 used an all new crank case design made from sand cast magnesium and featured a new style clutch actuating arm that went through the top of the cases. The front and rear wheels are sand cast magnesium as is upper triple clamp. The lower clamp is machined aluminum and the fasteners are titanium. The fuel tank is a hand formed aluminum high capacity tank. The rear "thermal flow" shocks, still under development, were sand cast in magnesium. The front forks are hand made except for the sliders which are cast aluminum. The fork legs are knurled where they make contact with the triple clamps. Most of the fasteners used are titanium.
The top triple clamp is sand cast magnesium and the bottom, machined aluminum. The forks are machined between
the top and lower triple clams and knurled at the lower clamp for better grip. The "Thermal Flow" rear shocks were still under development. The lower bodies were sand cast in magnesium.
The 1973 works YZ featured the new style clutch actuating arm. It improved the pull and feel of the clutch.
This bike was shipped to the United States from Sweden where it was eventually restored. It was fairly complete but in rough condition. The high capacity aluminum fuel tank was hammered and required a great deal of work to restore.