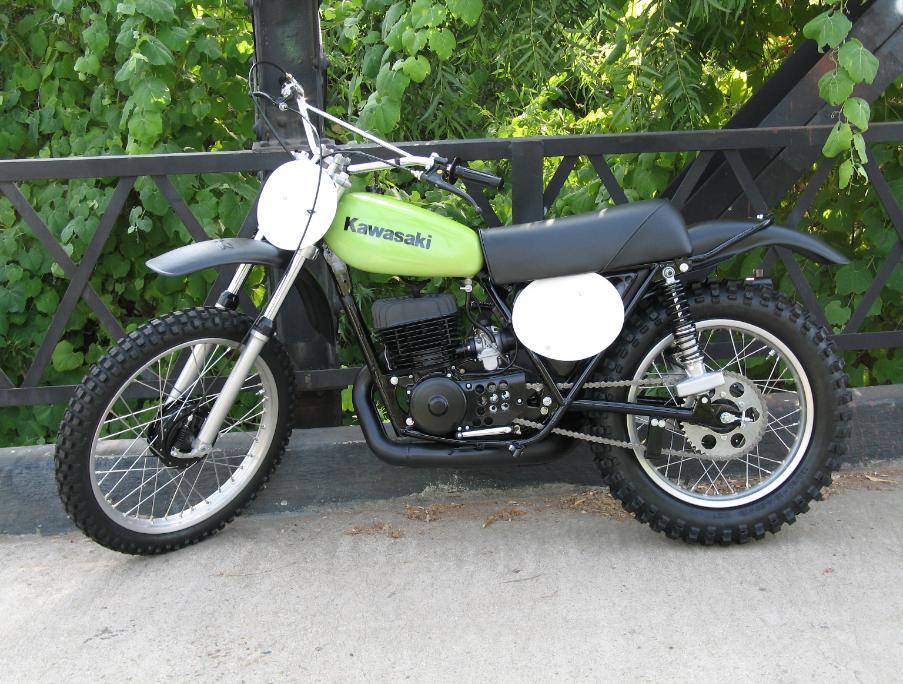 1973 Kawasaki F12MX
By early 1972, Kawasaki recognized a growing market in the United States for a race and help develop the bikes. Lackey rewarded Kawasaki at the end of the season with the National Title. By 1973, Kawasaki was prepared to release a limited production open class motocross bike dubbed the F12MX. They also released the 250cc version dubbed the F11M. The F12MX represented Kawasaki's best effort to produce a competitive motocross bike to the US market. Unlike the F11M, which was based on the current F11 enduro, the F12MX was a ground up design as Kawasaki had no big bore bikes in it's current off road inventory. The bike featured magnesium hubs, chromoly frame, custom Kayaba shocks, plastic fuel tank and levers. It weighted in at 212 pounds, 8 pounds lighter than the F11M.
The projected number of bikes to be built was 200. It is believed by many sources that significantly less than 200 bikes were ever released from Kawasaki.
This bike was confirmed as the test bike used in Dirt Rider Magazine in August 1973. It is also believed to have been the same bike used by Motocross Action Magazine, Modern Cycle and Cycle World. It's history has been documented since it left the Kawasaki Factory in Irvine.
In 1974, Kawasaki was prepared to release the production version of this bike. It was dubbed the Kawasaki KX450. Kawasaki's dirt bike line has been referred to "KX" ever since.
Dirt Rider Magazine