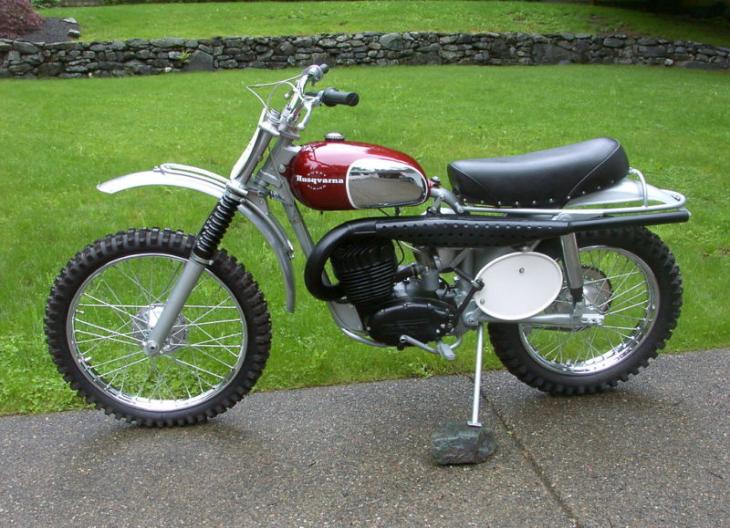 1967 Husqvarna 360
The following bike is owned by Dave Brown. This bike was previously owed and ridden by AMA HALL OF FAME RIDER DAVE MUNGENAST SR. Dave explains alittle about the bikes history:
THIS IS A VERY RARE PIECE OF MOTOCROSS HISTORY, A TRUE COLLECTOR CLASSIC..
THIS IS AN OLDER RESTORATION FROM 1999, BUT YOU WOULD BE HARD PRESSED TO FIND ONE NICER THAT IS FOR SALE. TOM RAMEY FROM SO. JORDAN UTAH PUT THIS BIKE TOGETHER WITH THE HELP OF JOHN LeFEVRE (VINTAGE HUSKY CA).
SEVERAL NEW OLD STOCK PARTS ARE ON THIS RIGHT DOWN TO THE TRELLEBORG 544 MOTOCROSS TIRES.. ALL PARTS ARE EITHER PLATED, PAINTED AND POLISHED TO MAKE THIS AN ABSOLUTY BEAUTIFUL BIKE The ENGINE was TOTALLY GONE THROUGH, AND AS FAR AS I KNOW ONLY RUN AT MID OHIO AHRMA AMA MEET IN 1999/2000.. WHICH THIS BIKE TOOK FIRST PLACE IN ITS DIVISION OF THE MOTORCYCLE SHOW..